INFORMATION TO THE MARKET:
1 – STOCKS AUDITED ON JUNE 30TH, 2021:
As published on August 18th, 2021, a survey carried out through an independent audit with each of the companies associated with CitrusBR and also consolidated by an external audit, found that the global inventories of Brazilian orange juice, converted into Concentrated and Frozen Orange Juice equivalent to 66 ° Brix (FCOJ Equivalent at 66 ° Brix), held by its associates, on June 30th, 2021, were 316,929 tons.
At that time, it was not possible to estimate the processing of fruit and production of juice until the Citrus Defense Fund (Fundecitrus) re-estimated the harvest and quantified the effects of the drought and frosts that hit the citrus belt of Sao Paulo and Minas Gerais. With the results published by Fundecitrus last September 10th, 2021, CitrusBR can proceed with its market information program.
2 – JUICE YIELD ON FRUIT ESTIMATED FOR THE 2021/22 SEASON:
In a compilation carried out individually and confidentially by independent audit among the companies associated with CitrusBR, it was found that the average industrial yield on fruit for the 2021/22 harvest is estimated at 263.2 boxes to produce one ton of FCOJ equivalent at 66º Brix.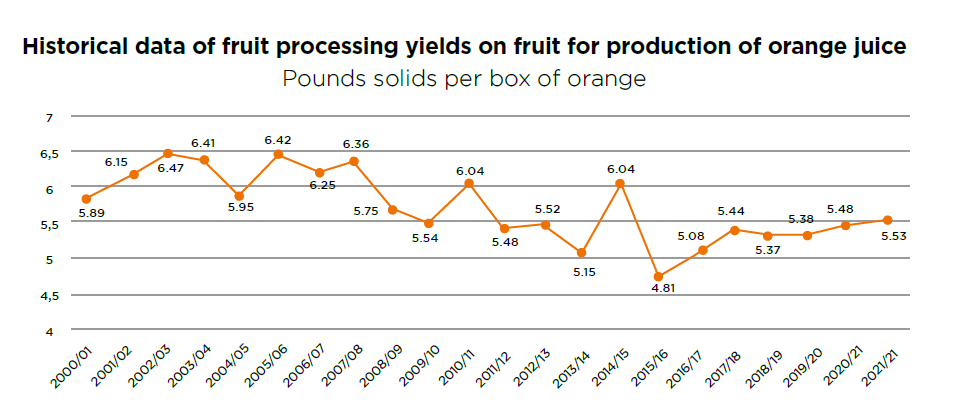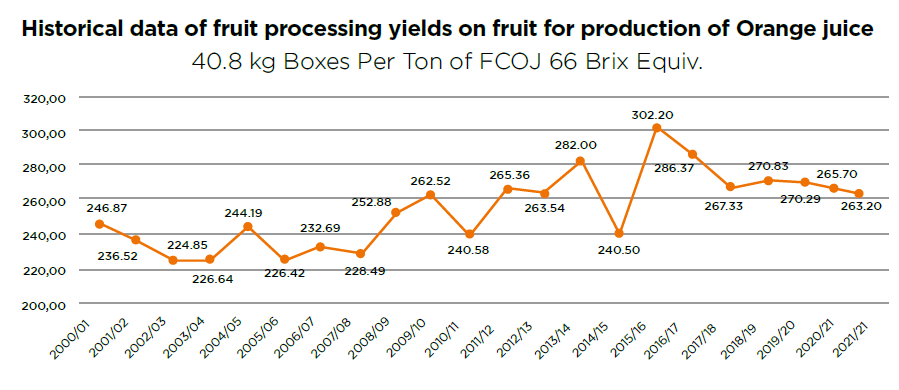 3 – ORANGE PROCESSING AND JUICE PRODUCTION PROJECTED FOR THE SEASON 2021/22:
Considering a crop estimated by Fundecitrus on September 10th at 267,870,000 boxes of 40.8 kg and consumption in the Brazilian domestic market of fresh fruit of around 40,000,000 boxes, it is possible to estimate processing at around 227,870,000 boxes for CitrusBR' members and non-members.
Thus, applying the estimated average yield on fruit of 263.2 boxes per ton to the 227,870,000 boxes of oranges to be processed in the 2021/22 harvest, the total estimated production of orange juice in the citrus belt of Sao Paulo and Triangulo Mineiro is around 865,767 tons of FCOJ equivalent to 66º Brix.
4 – ESTIMATED DEMAND IN THE 2021/22 HARVEST:
Considering the Brazilian Secretariat of Foreign Trade (Secex) data as a reference, for calculation purposes, it is possible to estimate that the international demand for orange juice shall remain stable, at around 1,000,000 tons.
5 – PROJECTED GLOBAL ORANGE JUICE STOCKS OF CITRUSBR MEMBERS FOR JUNE 30TH, 2022:
Considering all the data exposed, it is reasonable to estimate that the final orange juice stocks on the date of passage on June 30th, 2022, are comprised in a range between 170,000 and 190,000 tons of FCOJ equivalent depending on the development of the orange crop. This estimative is also still subject to the effects of the water crisis that continues in the citrus belt of the State of São Paulo and Minas Gerais and to changes in the demand for orange juice.
São Paulo, September 16th, 2021
Ibiapaba Netto
Executive Director